The perfect slim patio doors for openings large or small
The Sunflex SVG20 sliding door or equally impressive SVG30 models give you all the appeal of ultra-slim sliding doors without the cost or installation complexities of the structurally bonded alternatives. Sunflex has been pioneering the art of modern slim sliding doors for over 20 years.
Even better, Sunflex doors finally address the issues around many sliding doors.  That is a better fat threshold and fully flush stacking sliding panels when open.
The desirable 20mm slim mullion with out the cost or complexity
One of the prestige tried and tested British brands
An overall superior design to similar doors
Ultra-smooth sliding action with lift/slide option
Key Features
Easy to use, advanced security and performance
The most noticeable feature of the SVG20 or the Sunflex SVG 30 sliding door model is the consistent lines viewed from all angles.  This is a new design of slimline sliding door and different from the higher-end products that are slim on the face but project quite deep into the room.
The Sunflex door also comes with a better design for fully open doors.  Finally, a solution where two or three panel doors stack flush when fully opened, instead of staggered with all most other sliding door brands.  The look and feel are altogether better too.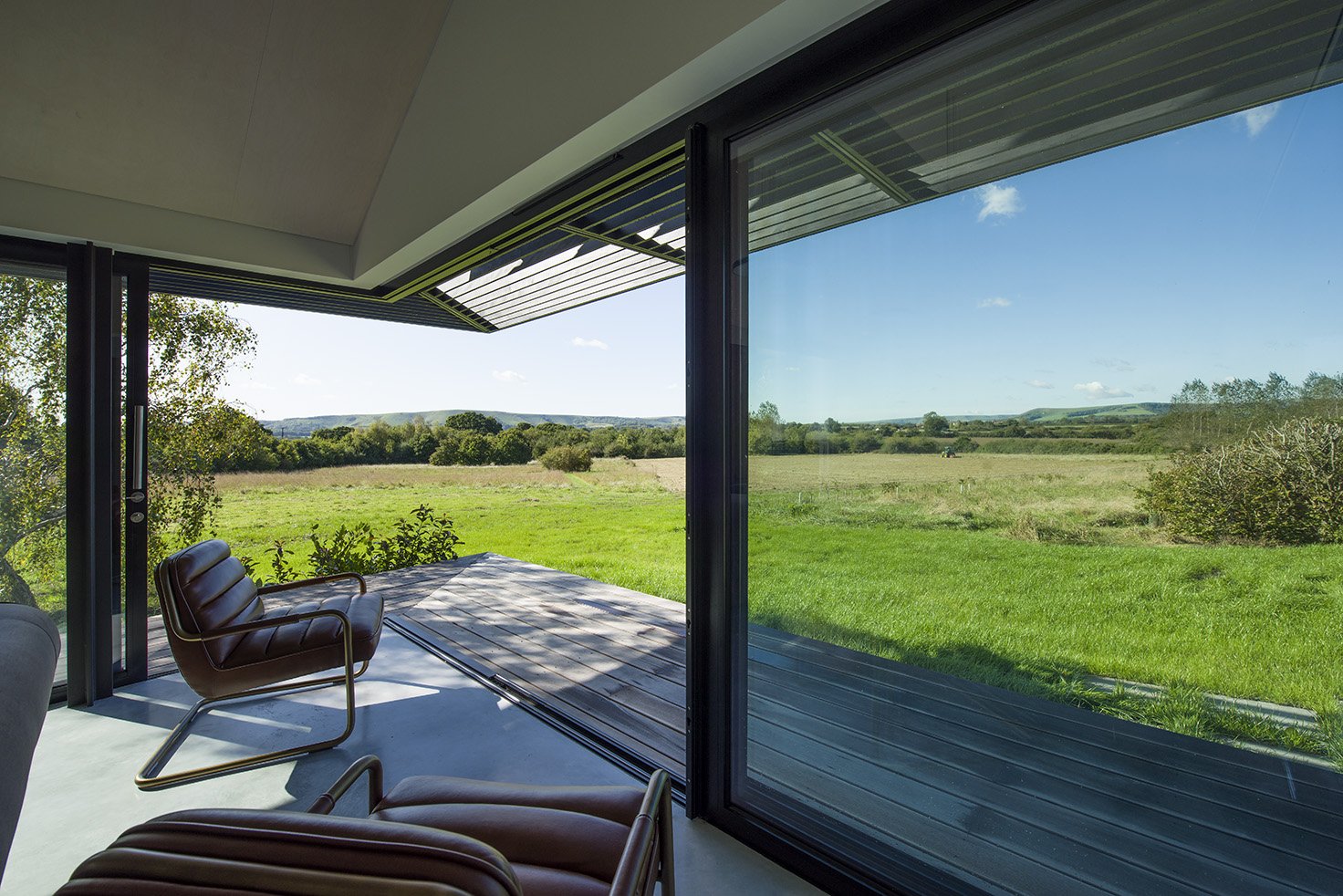 Sunflex SVG20 Sliding Door. 20 years, innovation in sliding doors
You get the same incredible sightlines on the Sunflex SVG20 as doors costing nearly twice as much but with a better overall look.  The Sunflex SVG30 model is marginally thicker at 30mm but this extra dimension allows for even stronger and bigger doors as a result.
Break down the boundaries between the inside and outside of your home while filling it with natural daylight and a spacious feel. This versatile and ingenious design of every Sunflex door promises you one of the best possible doors in your home.
Design and Specifications
Innovative locking systems for even better security
You expect your doors to work in keeping your home safe.  And Sunflex doors do this even better.  Another great feature in its design is the one-piece lock keep.  Study other doors and you'll see separate 'keeps' for each of the locking points.  These doors use just one that needs no maintenance as well as adjustment.
The construction, sealing and high specification of Sunflex SVG20 sliding door or the even higher-performing Sunflex SVG30 provide the ultimate combination of desirable aesthetics and user appeal. Not only do they come with a long guarantee, but they're also British Standards Kitemarked too.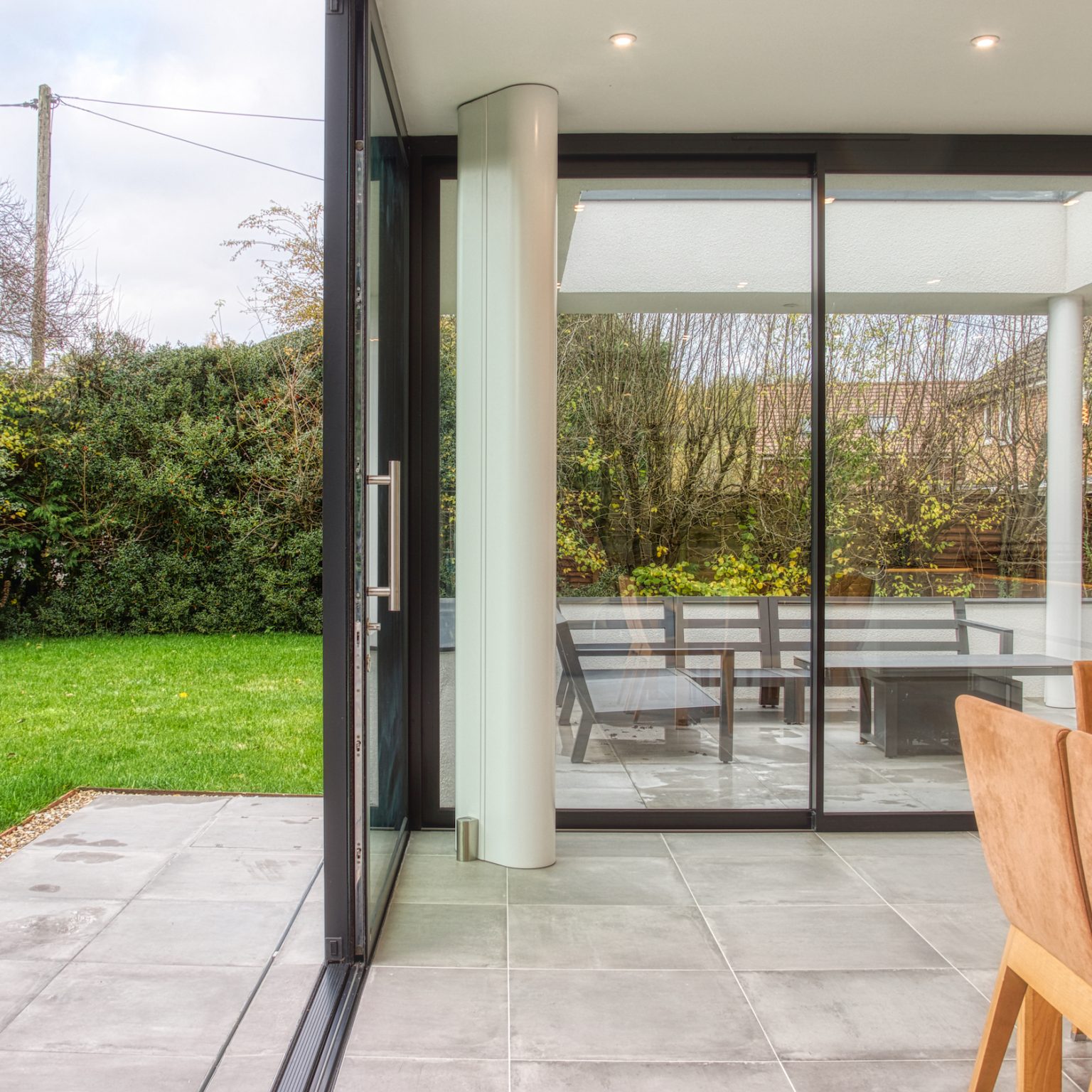 The narrowest width of frame and sliding panel
Choose doors from two up to four or even six panels.  The sizes are also impressive with up to 3m widths or heights, giving you just one middle mullion at openings up to six metres wide. There's also a full open corner solution.
With flexible solutions at the threshold, you get a standard, as well as a fully flush solution.  And such is the engineering behind these doors, the rollers and door panels effortlessly ride over even the biggest pieces of dirt without hindering the slide action.
Security and Energy Efficiency
Secure and highly insulated patio doors
Whether you choose the super slim SGV20 or the advanced SGV30 model, both come with near-identical specifications and the same flawless product quality.
Multi-point locks on both doors come securely operated via star rated cylinders and robust door handles. The safety and highly energy-efficient double glass unit with the insulated frames provide outstanding 1.4Wm2K U-Values for both door types.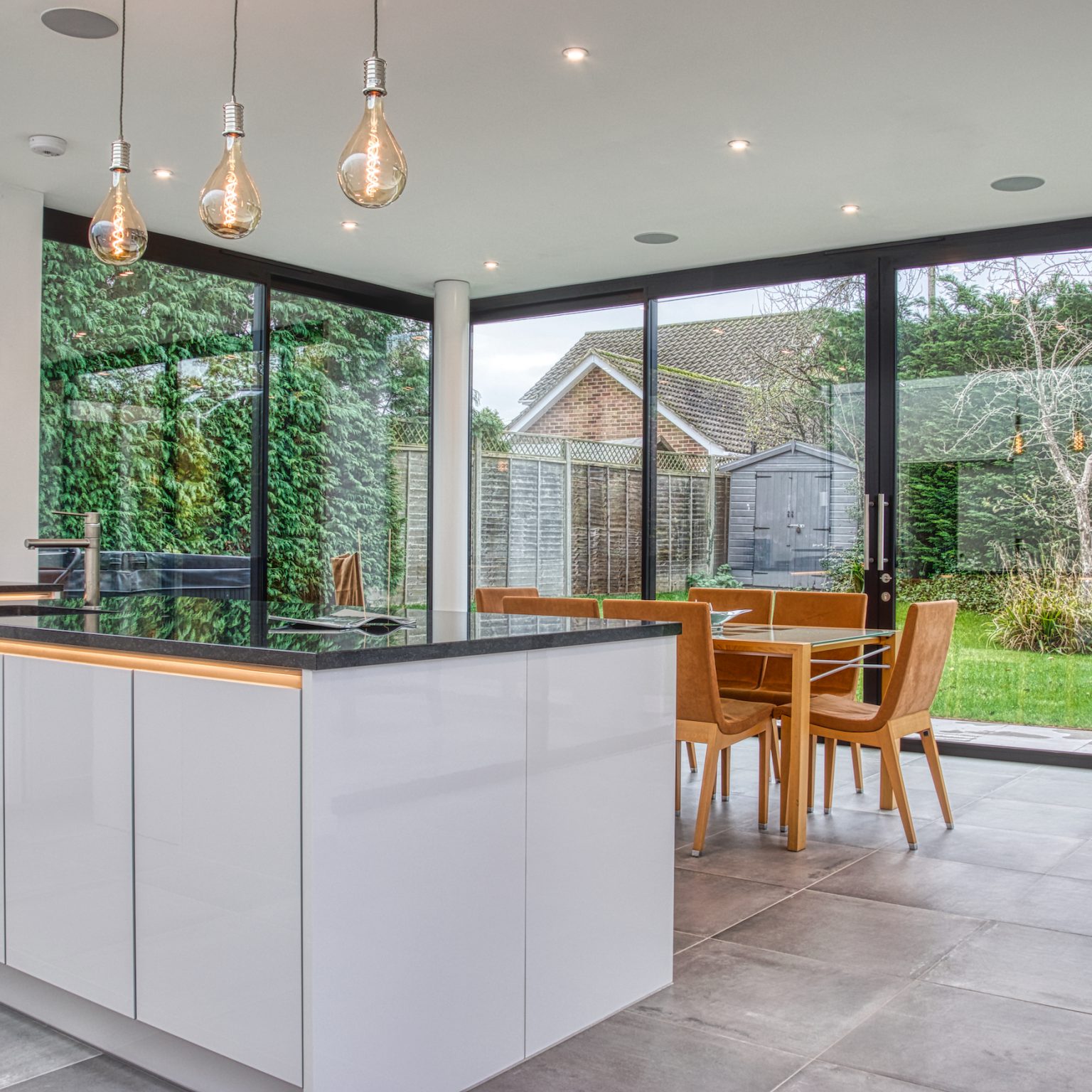 Kitemarked and Certified Security British-made doors
Your new sliding doors keep you safe and warm thanks to toughened safety glass, having a soft-coat low-emissivity coating, warm edge spacer bars and argon gas fill.  For extra peace of mind, you can upgrade to laminated glass and meet Secured by Design security standards.
The advanced Sunflex factory expertly crafts your new doors with an obsessive attention to detail and product quality.  The door locks are some of the best and come with a better design. No more unsightly door locking pins or keeps with the doors fully open
Appearance and Customisation
Simply better looking sliding patio doors
Study these doors in detail and you'll see genuine attention to detail and care.  The tracks are neat and seamless, with cover plates creating a uniform look.  The flush threshold looks neater and cleaner without the grooves and lines of other sliding doors.
Clever design is obvious in how these doors stack flush.  Once again this makes a fully open door look much better. You also get a bigger clear opening than other sliding doors. A great advantage on smaller door openings and where you need to maximise the opening available.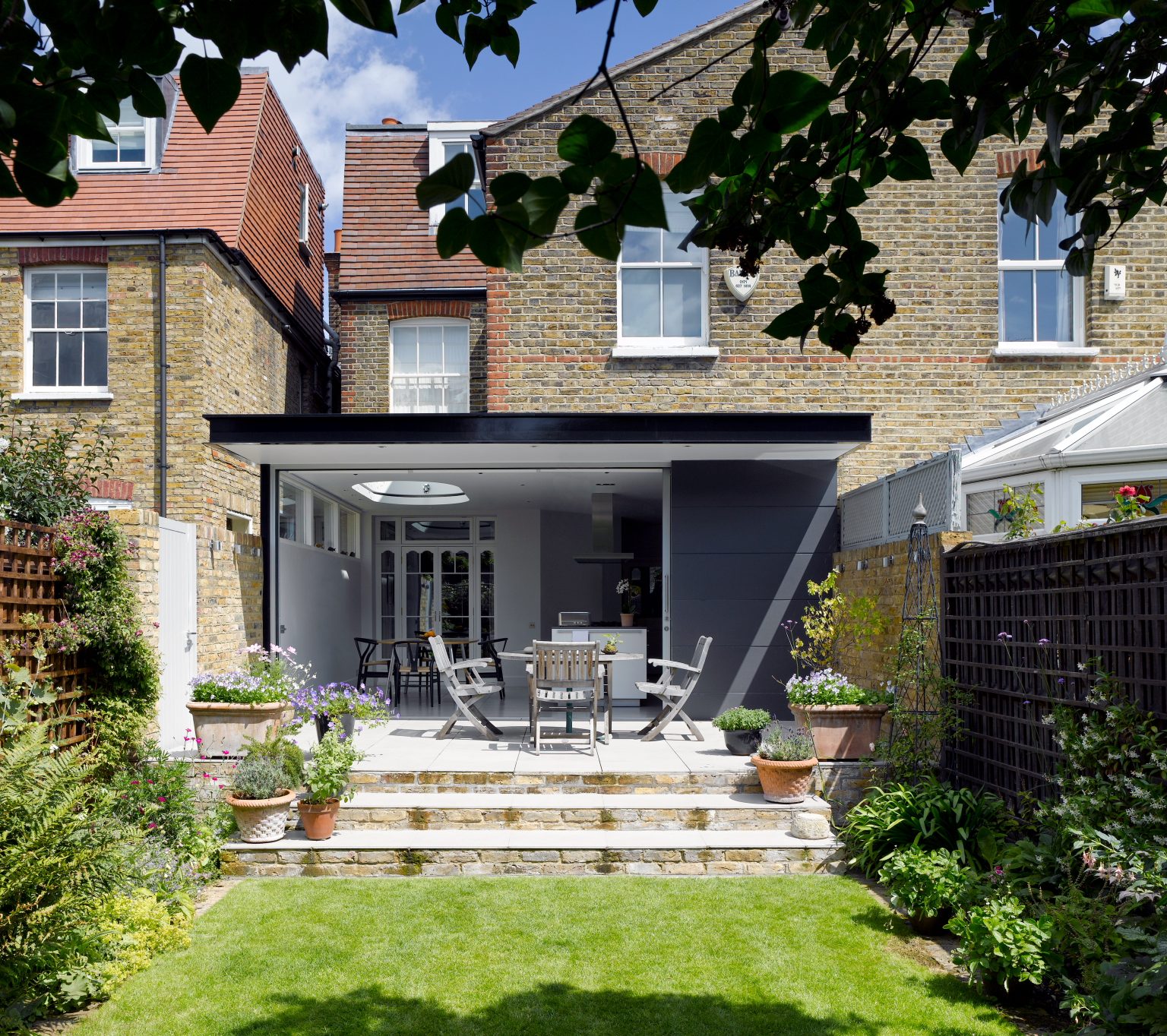 Choose your opening method, configuration, colour and handles
The inline sliding method lets you open and close your doors with the familiar push and pull action.  Choose lift and slide and the operation of your doors comes via a multi-functional door handle.
You get the choice of double or triple tracks letting you slide your doors to the left or the right.  Then there's the choice of over 150 powder coated colours.  Finally, there's acoustic, sun-control, enhanced security glass and even self-cleaning.
Slim, sleek Sunflex SVG20 and SVG30 sliding doors
The Sunflex SVG 20 Sliding door gives you the desirable 20mm sightline at the door mullion at a more affordable price and without the complexity of other brands.
Sunflex SVG20 sliding door is of the best-engineered systems in the UK today, using one of the most successful and tried and tested aluminium door systems, but enhanced and made even better. It's one of the most innovative too with its flush stacking panels and neat threshold design. You benefit from a sliding door like no other in your home. It also comes with some unique and very desirable features.
For over twenty years the Sunflex brand is at the forefront of bespoke sliding doors and renowned as one of the best. Only Sunflex make their doors – your guarantee of built-to-last doors with obsessive quality and attention to detail.
As you'd expect from a quality product there's a choice of hardware in architectural contemporary styles or a more traditional rectangular design. Outside your doors can come with no locking facility and an integrated colour matched flush door pull.
These incredible sliding doors come with the best security and giving no starting point even for the most determined intruder. The door cylinders also come designed to resist attack.
And at the all-important door track we provide neat finishing trims and cover plates. These look seamless and work to keep your track clear of dirt and debris. The overall fit and finish is something truly special.
When you invest in a luxury Sunflex SVG20 sliding door or SVG30 model, you improve your home with decades of aluminium experience from one of the UK's best door designers and manufacturers. These are genuinely some of the best all-round sliding doors you'll find.