Here we highlight some installations using Origin slimline bifold doors around the East Midlands and Lincolnshire. The Origin brand is one of our best-selling thanks to the excellent brand reputation and build quality, colour and hardware options and some of the most pleasing sightlines amongst modern folding sliding doors.
Here are some installations showing how you can use Origin slimline bifold doors in your new extension or property refurbishment project.
White Origin slimline bifold doors with matching folding window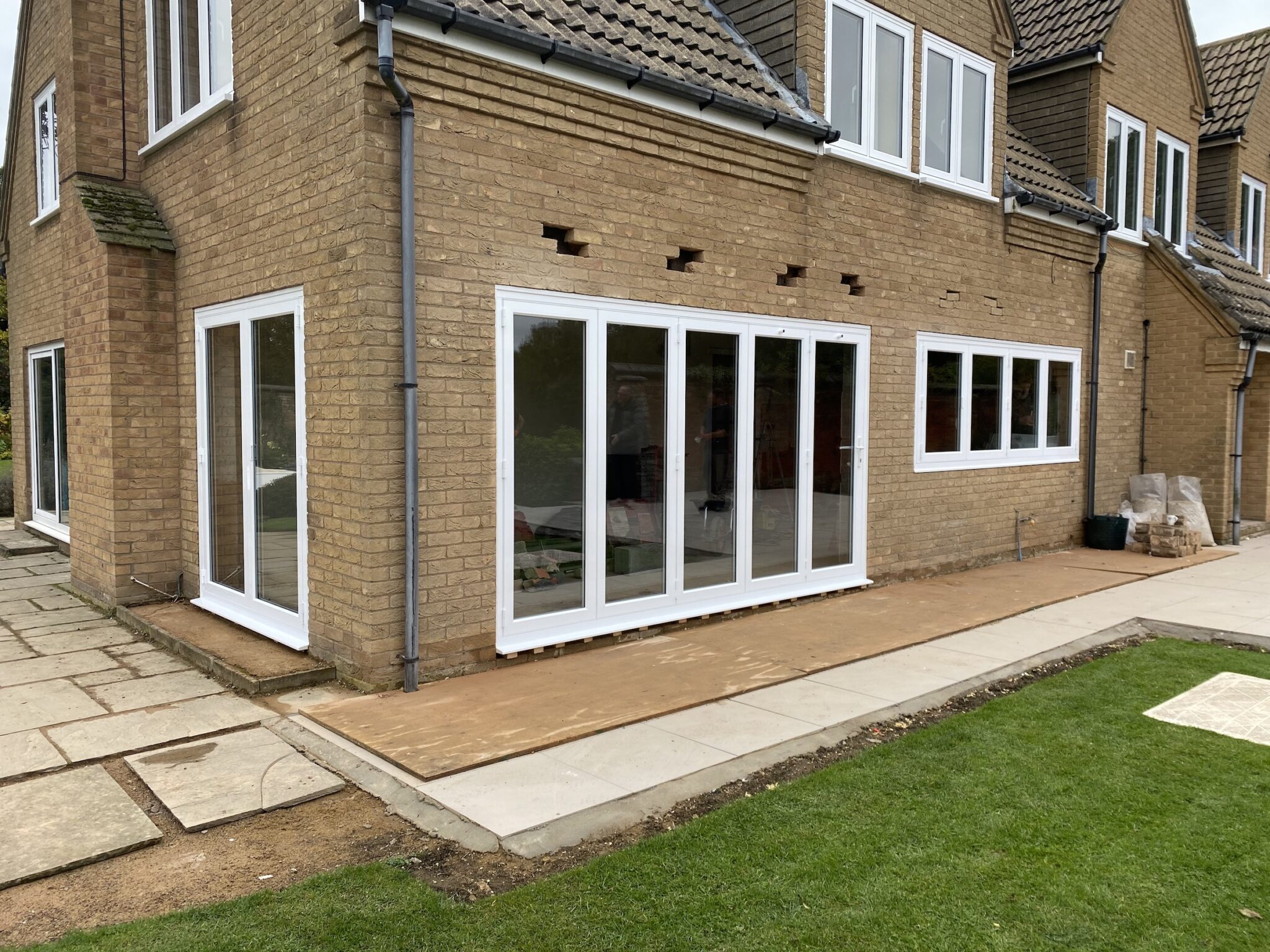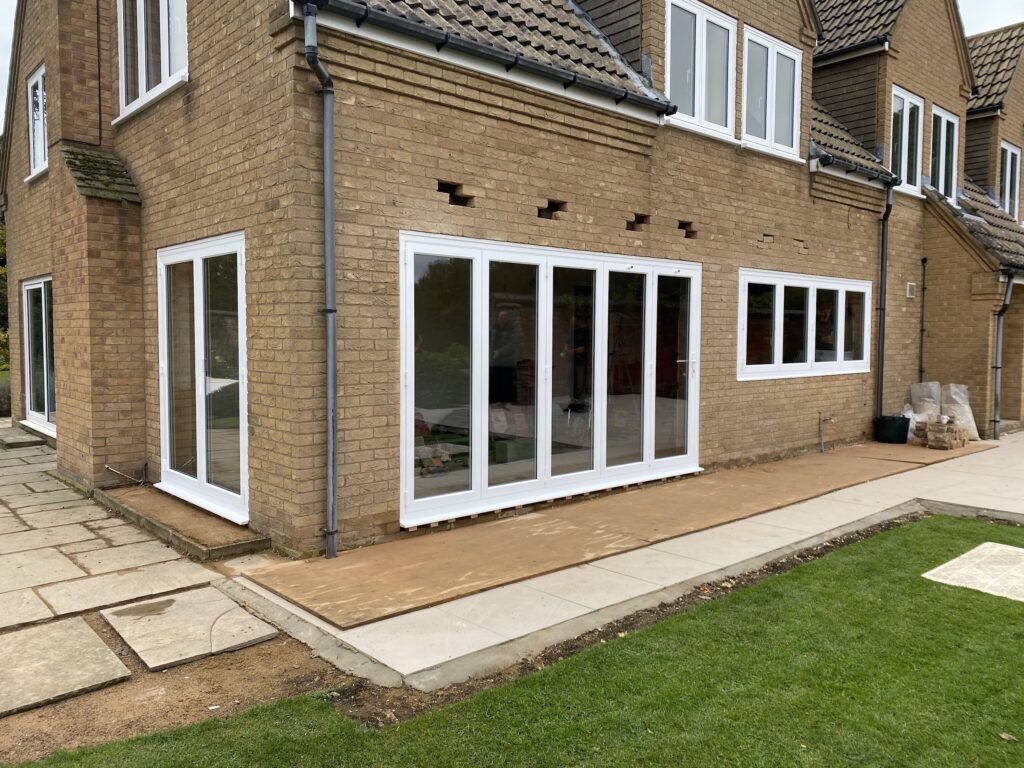 Showcasing an entire property installed with Origin products are bifolding doors, with matching French doors, also from bifold profiles to the side. Around the house are the classically styled flush casement windows and even a bifolding window.
The elegant proportions of these bifolds are a wonderful match to the similarly dimensioned windows and all with one quality brand and the renowned 20-year manufacturer warranty.
As well as featuring the Origin slimline bifold doors it's worth noting that for French doors, using bifold profiles is possible and worth considering. Not only do you get 1oo% matching French doors with the bifolds. At the same time, you get the increased width and height benefits of bifolds over regular doors. Great for creating taller doorways where other brands need side or top panels. And, viewed from the inside, the hardware all matches too.
Twelve Origin slimline bifold doors panels in Cambridgeshire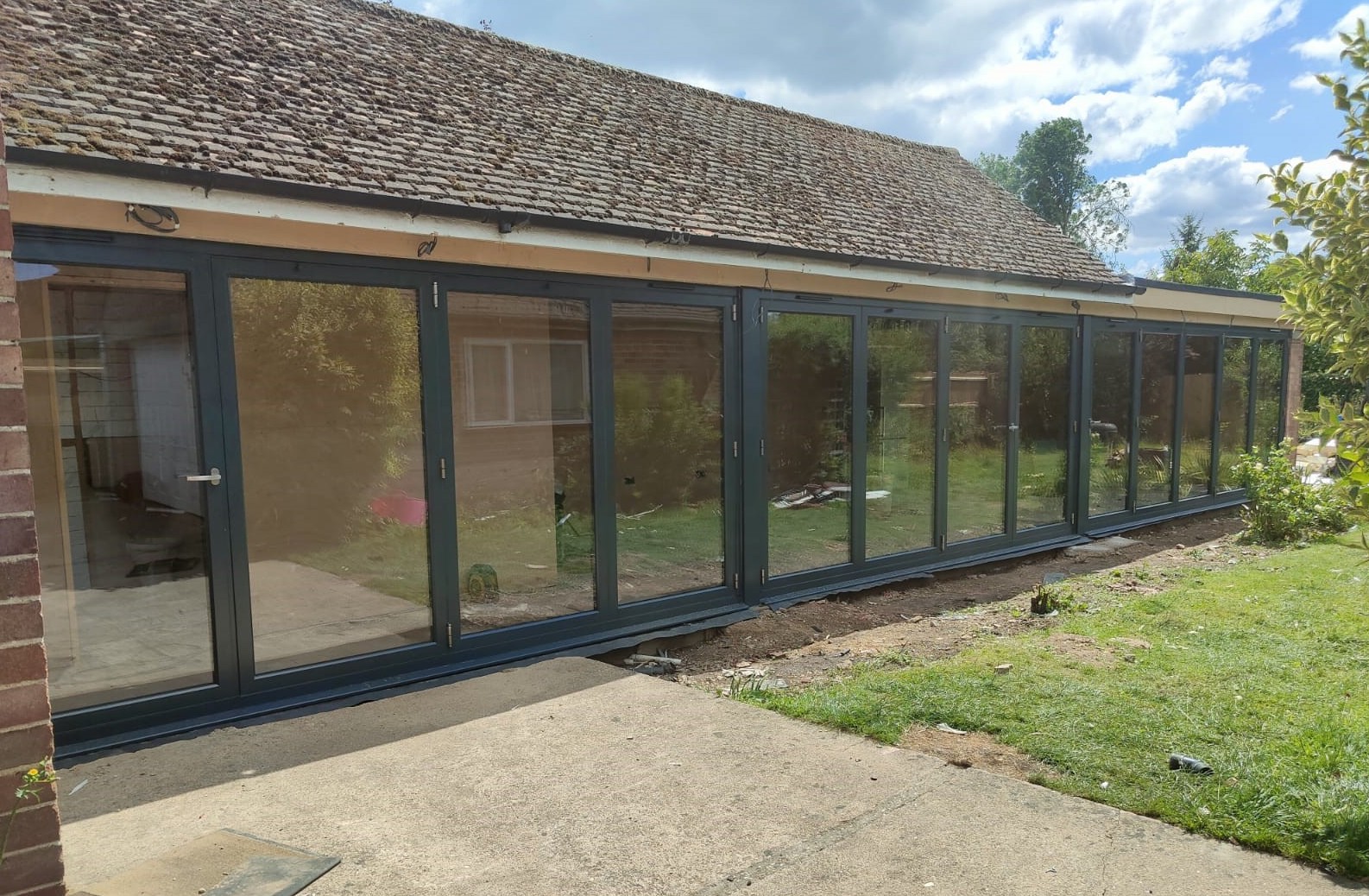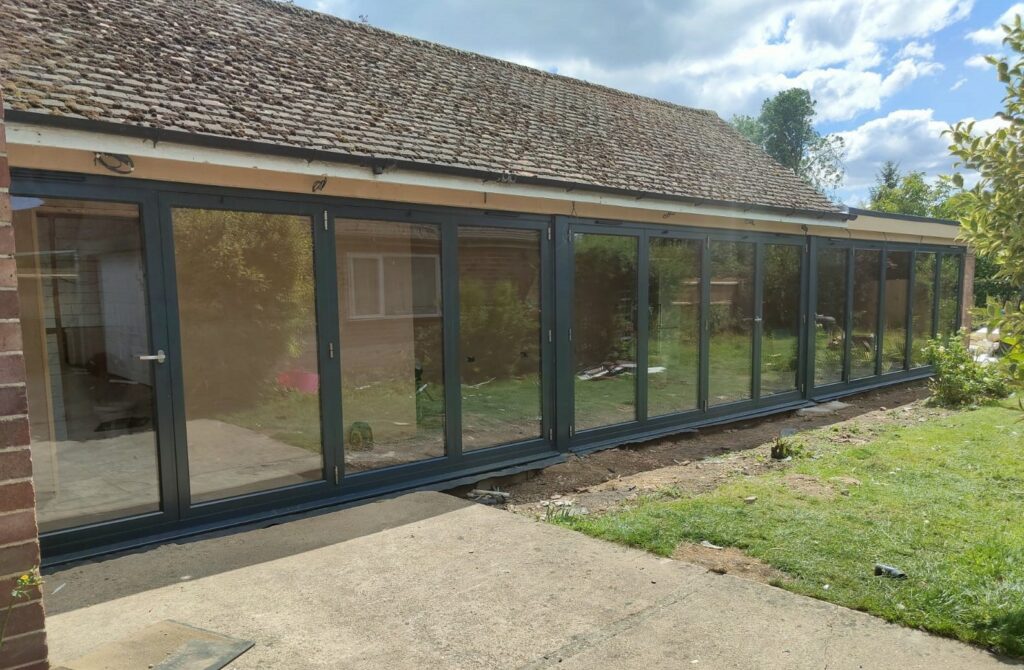 A substantial property renovation project comprising three sets of four panel Origin slimline bifold doors in a grey colour.
Fully open in the summer, these create a wonderful open aspect to the entire elevation. The left hand and middle set fold to the first column, with the end set folding against the wall. Another good feature are the traffic doors, cleverly placed so any set can be used for fast garden access, without folding any of the panels back.
White bifold doors to a Nottinghamshire kitchen renovation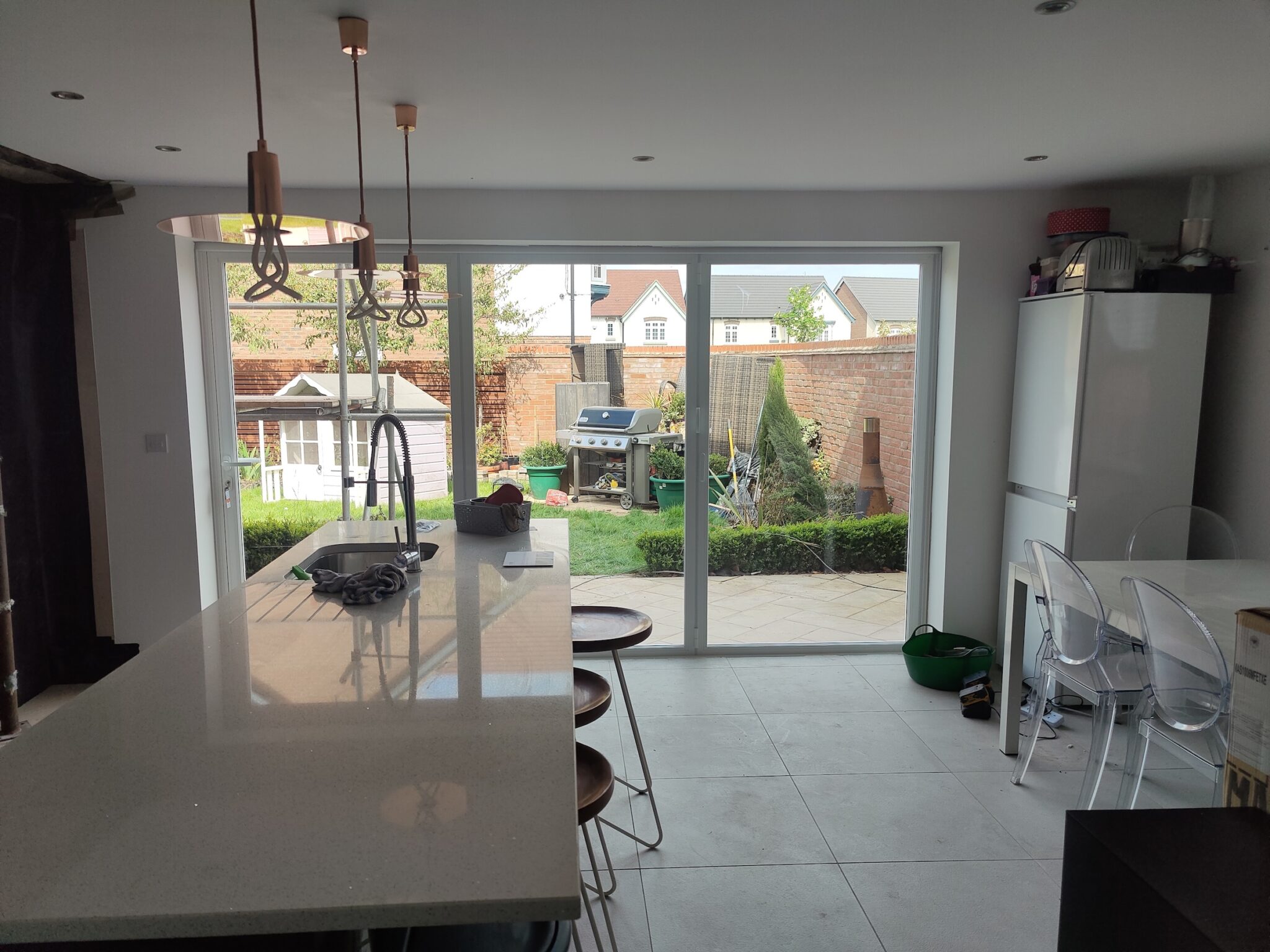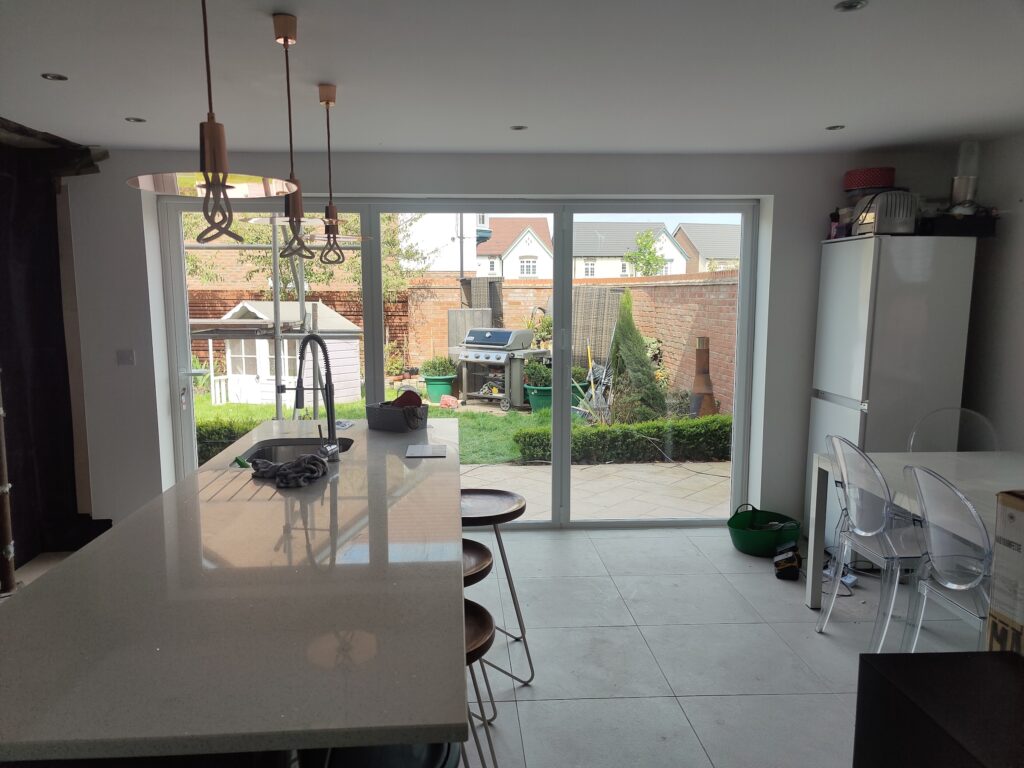 A new-build home with a kitchen renovation with classic white Origin OB-49 slim bifolds in a three panel design. Noteworthy on this installation is the doors have white door handles, intermediate panel handles and white door seals and gaskets. Origin remains the only bifold company offering seven different gasket colours, removing the need for the black gaskets found on other bifold door brands.
The doors come in wider panels, folding to the right with the garden access door on the left.
Contemporary grey bifold doors in a three panel design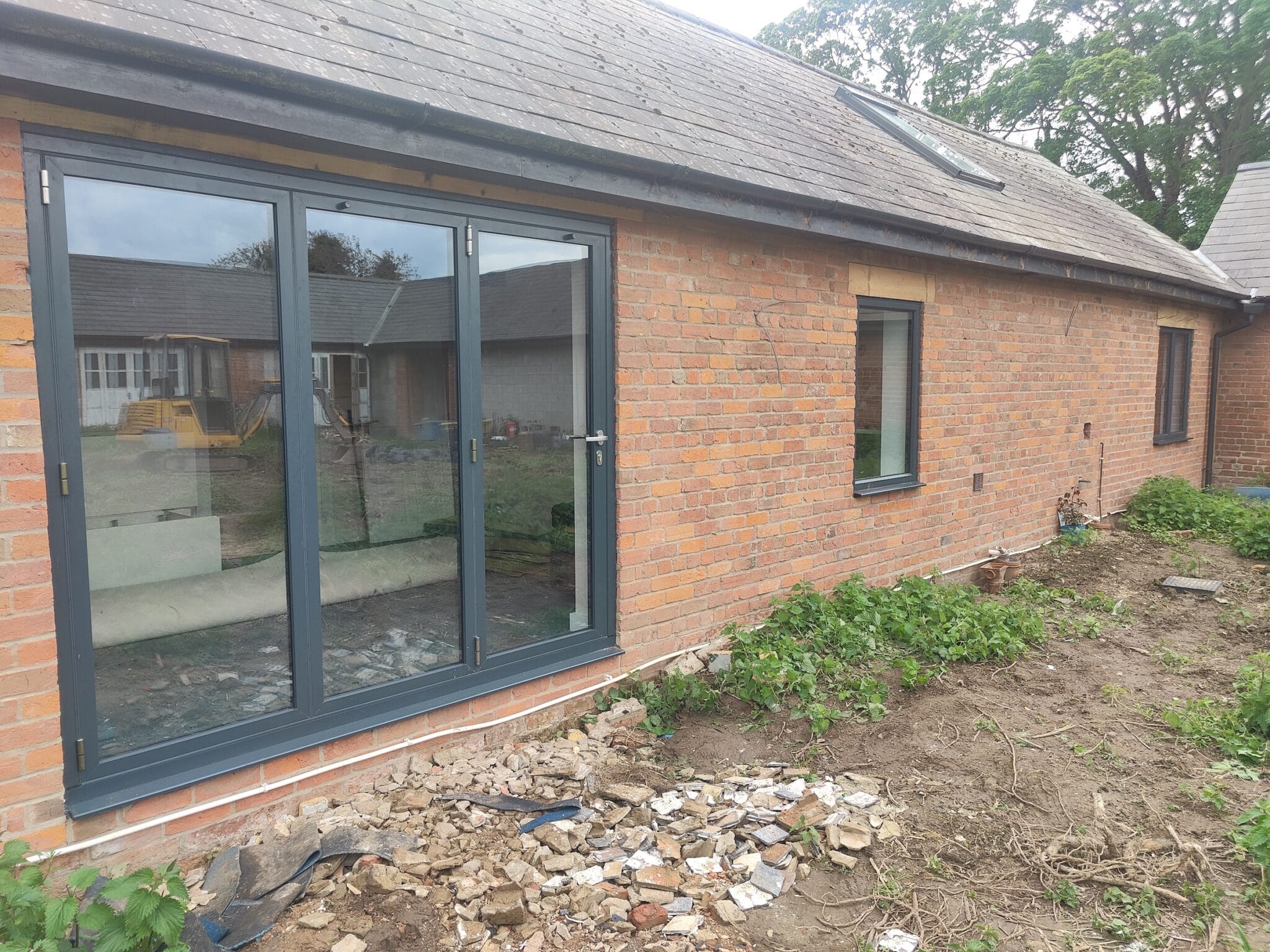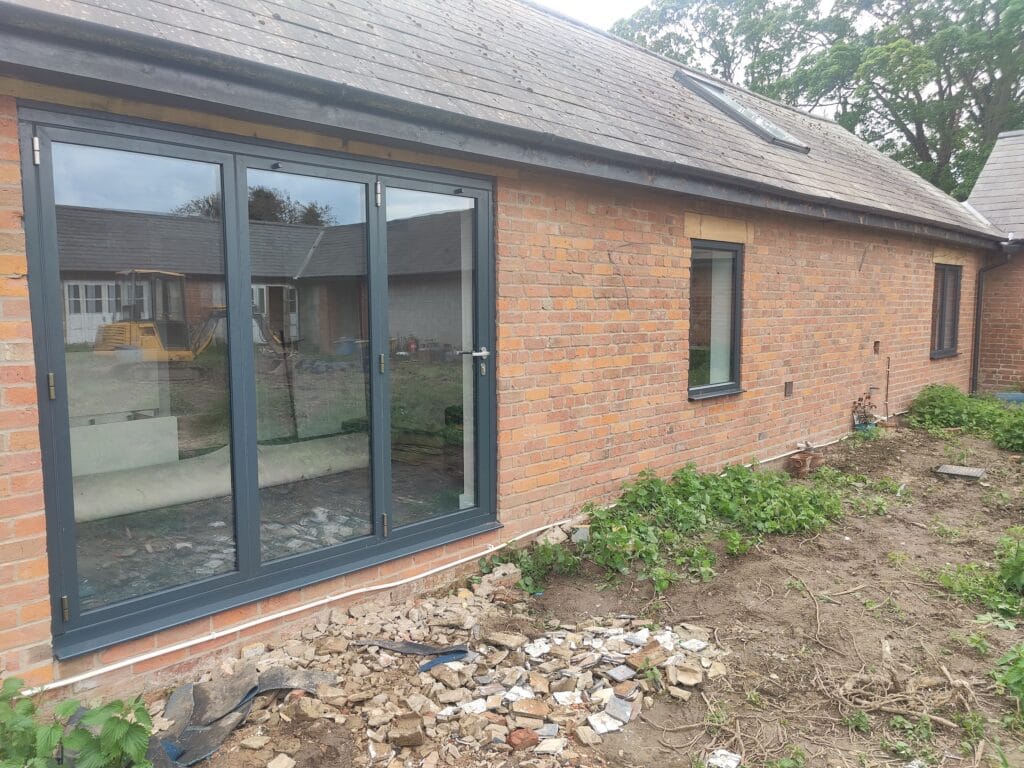 Supplied and installed by us in the popular RAL7016 modern grey finish and in a three panel design is another slimline Origin bifold to a single storey renovation in Peterborough. This product remains one of the best for replacing a dated set of patio doors with a thinner more functional alternative.
The product comes with matching grey finger-safe gaskets between and around the door set. There's also the premium hardware upgrade with the Hafi satin stainless steel handle, noticeable by its separate key cylinder. The slimline door hinges are also in a matching finish.
Origin folding sliding doors with integral blinds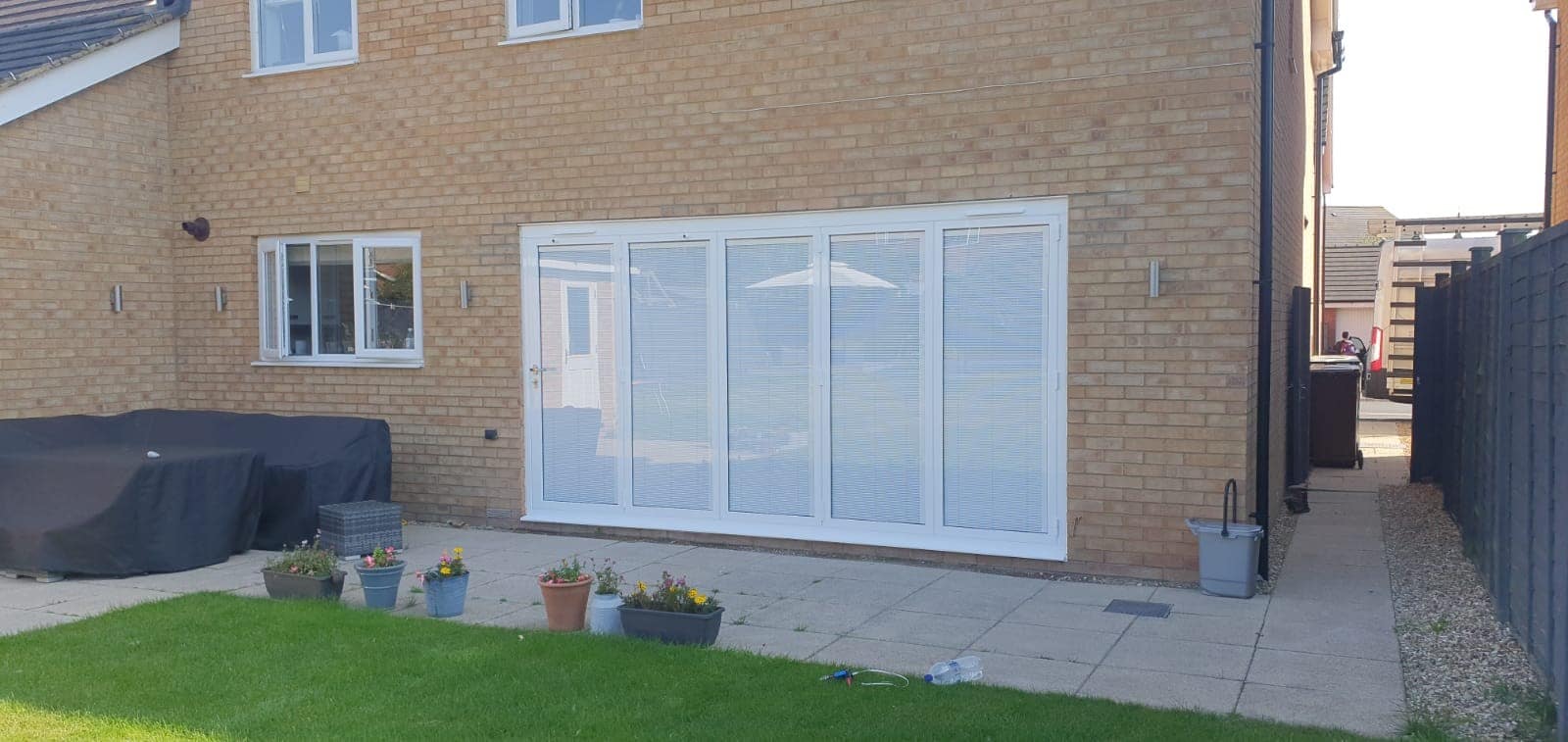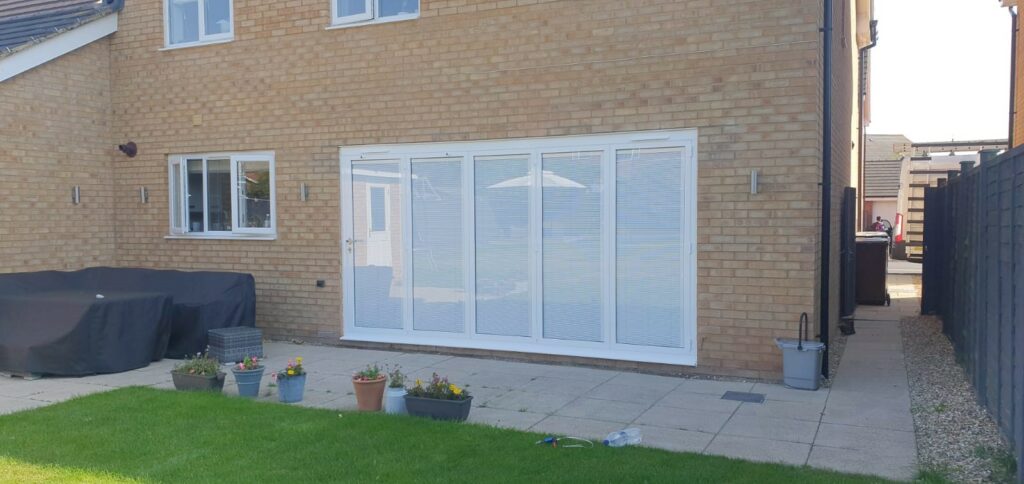 One of the best accessories for new folding sliding doors are blinds in the glass units. These doors come in a five-panel design, sliding and folding to the right and with a traffic door.
Shown here in another new build property are Origin slimline bifold doors with matching white Pellini blinds. You get the privacy and shade you need whilst at the same time not obscuring the great styling and proportions of your new bifolds. An excellent shading and privacy solution, without needing after-market curtains or blinds.
Integral blinds always stay clean, don't blow in the wind and can even add to the already excellent thermal performance of the glass.
The best bifold door brands for your property by alühome
At aluhome, we're proud of our inspired, refined and bespoke aluminium product range. Whether you want the latest bifolding doors, aluminium windows or sliding doors, we can help.
Contact us today, visit our showroom to view our entire product range, or talk to us about your forthcoming property renovation project.